Group Tour
Tips
1) Participants' information is required during registration. Accident Insurance is provided by Travel Agent.
2) Please show Tour Card when getting on the bus. Please take care of your Tour Card as it is the only access to the tour.
3) Please follow the arrangement of the guide. Participants are not allowed to leave team without permission.
Schedule
Kunibiki Messe
(Start from 9:30 am) →
Matsue Castle
(from 9:40 am to 10:40 am) →
Horikawa Sightseeing Boat
(from 10:50 am to 11:40 am) → Lunch (from 12:00 am to 12:50 am) →
Matsue Vogel Park
(from 13:20 pm to 14:20 pm) →
JR Matsue Station
(Arrive at about 15:00 pm)
Note: This is a tentative itinerary. Some small items are subject to change based the arrangement of the guide.
Matsue Castle (National Treasure) Constructed over a period of 5 years from 1607 to 1611 by Yoshiharu Horio, a feudal lord and founder of Matsue. Currently it is one of the only 12 remaining original castles in Japan and the only one in the San'in region. It was designated National Treasure in 2015.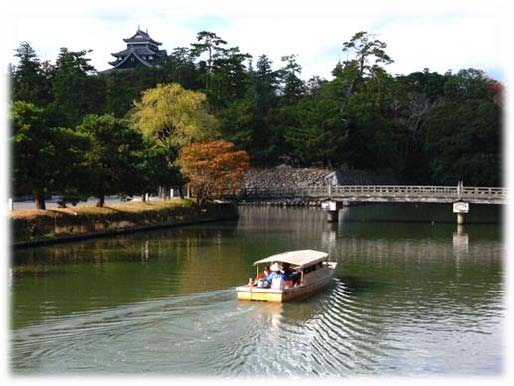 Horikawa Sightseeing Boat This 50 min sightseeing boat guides you along the moats through the historical Japanese scape of the castle Matsue, the places related to Lafcadio Hearn, forests which have been there 400 years since the construction of the castle, charming changes of seasons and the beauty of moats itself.
Matsue Vogel Park
Matsue Vogel Park is an all-weather park that consists of four greenhouses and an observatory which are connected by a covered corridor. Visitors can enjoy various flowers, including begonias and fuchsias which are in bloom all year round. You can also find lots of birds in two of the green houses and other places in the park. You can enjoy lunch here during excursion and the buffet style catered from hotel also can leave you a wonderful memory.